July 26, 2023, Taipei, Taiwan-FZtech Inc., the leading manufacturer of thermal and metal products, is pleased to announce the addition of the Freezer 3260 – LGA1700 CPU cooler for 2U server IPC (up to 150w solution). the Freezer 3260 cooler is available with two balls bearing.
The Freezer 3260 of cpu cooler is 90 x 90 x 67 mm (+/-1mm) in size and 420 grams in weight. Fan speed (PWM function) operates within a range of 2600 rpm (±500 rpm) to 8000 rpm(±15%) with maximum airflow of  47.2 CFM(±10%) and a noise 52.5 dBA (max.).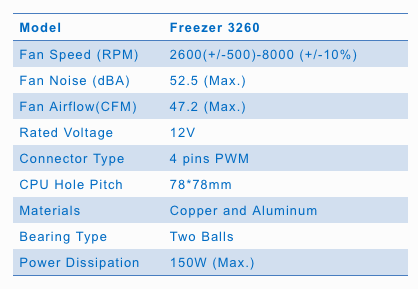 The fan used in Freezer 3260 CPU cooler have a rated voltage of 12 volts, and the thermal interface material of this model is made of a high efficiency thermal compound.
About FZtech Inc.
As a creator and supplier of cutting edge, high-quality, reasonably priced, thermal and metal products for use in pc, led, and consumer electronics product applications, FZtech offers total metal and thermal solutions and provides OEM services to various industry leading companies
For more information visit FZtech online at http://www.fztech.com.tw
 
Sales contact: FZtech inc.
E-mail: sales@fztech.com.tw (sales@fztech.com.tw)